Our Products
Quick Links
Crop King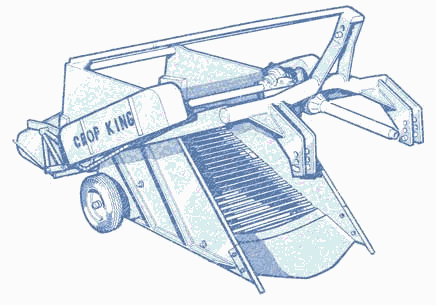 The Trifon Group of Companies has been manufacturing the Crop King harvesting machine for the past 25 years and has more than 2500 machines in the field.


FEATURES:


Able to harvest in all soil conditions.
Can harvest potatoes, seed potatoes, onions, sweet potatoes, flower bulbs, garlic and peanuts.
Models available for harvesting from 24" to 40" planting with. (Double line machine available.)
Minimum potato damage (less than 1%).
Depth adjustment to meet your digging requirements.
Guaranteed to yield more per morgen than any other machine presently on the market.
Unique patented rear shakers for breaking up compacted soil.
All major movable parts are seal bearing mounted to ensure a longer life.

Service:
A fully backed service with all spares parts available ex stock. Contact us directly or your nearest Co-op.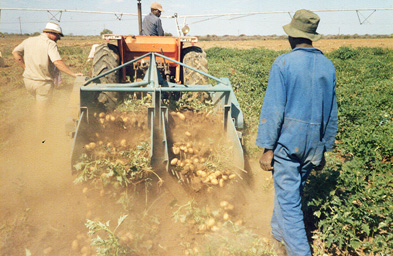 Die Trifon Groep van Maatskappye vervaardig die Crop King aartapel oester vir die agelope 25 yaar en het reeds meer as 2500 masjiene in die gebied.
KENMERKE:
Bevoeg om in alle grondsoorte te oes.
Kan aartapels, saad-aartappels, uie, patats, blombolle, knoffel asook grondbone oes.
Modelle beskikbaar vir 'n oes vanaf 24" tot 40" plantwydte. (Dubbelry masjien beskikbaar.)
Minimum aartappel beskadiging (minder as 1%).
Diepte verstelbaarheid om by you spitvereistes ann te pas.
Gewaarborg om meer per morg te lewer as enige ander masjien tans op die mark.
Unieke agterskudaksie vir die opbreek van kluite.
Alle hoof beweeglike parte is verseelde koeellaer gemonteerd om 'n langer dienstydperk te verseker.
DIENS:
Ten volle geondersteunde diens en vir onmiddellike beskikbaarheid van onderdele, kontact ons direk of u naaste Kooperasie.